The deception continues in America that you need a vaccine to reopen. Wuhanites are no longer concerned…it appears. 🙂 All without a vaccine!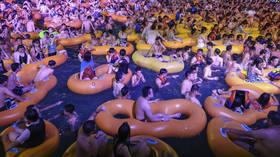 https://www.rt.com/op-ed/498256-wuhan-water-party-covid-lockdown/
No masks, no social-distancing. They never needed a vaccine for things to go back to normal. They used intravenous Vitamin-C, and hydroxychloroquine. China may be the one place where we might actually see medical freedom in this world. 
Interestingly, last I checked, Facebook is not allowed in China.